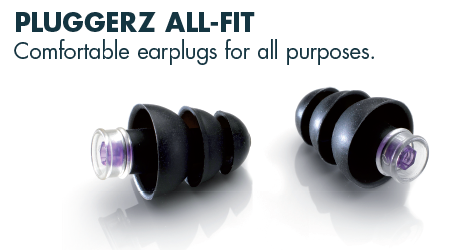 Top quality universal earplugs for all purposes: a complete range! Navigate to the earplugs of choice by in the main menu. Each type has it's own unique filter. Some All-Fit earplugs (Swim & Travel) are also available for kids.

The benefits of Pluggerz All-Fit:
Incredibly comfortable due to 3 layers and anti-allergic silicon material
For frequent use
Each type has a unique filter
Pluggerz All-Fit Swim and Travel also available in KIDS versions for small ears
CE and ANSI certified and tested according to EN 352-2 and US E.P.A. regulations
For daily use and for extra comfort we recommend Pluggerz Custom-Made.
These earplugs are moulded to the shape of your ears and seal off your ear canal in the best possible way. Custom-Made earplugs are suitable for long-term daily use. Read more about custom-made earplugs here.